Anti-Blue Light Screen Filter (Light orange)
Model NO.: PLBU-S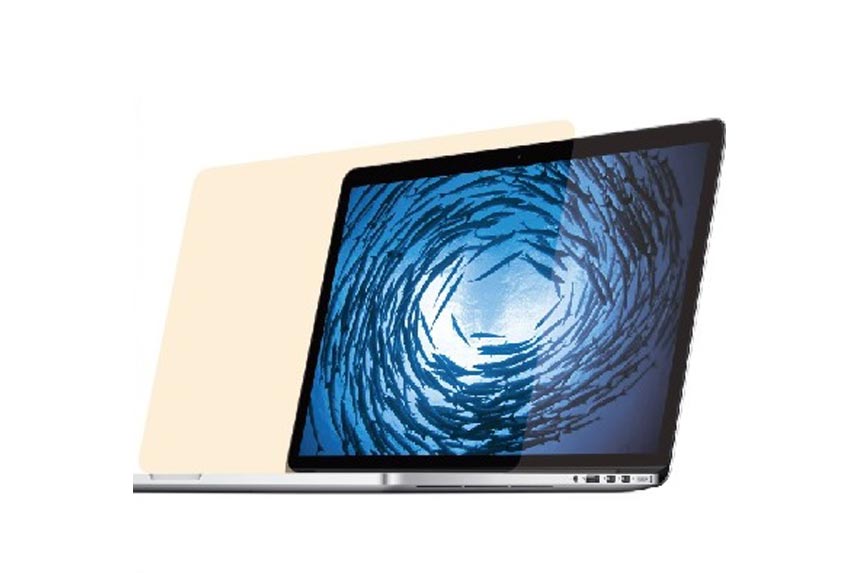 Special anti- blue light coating, it is able to reduce 46% of harmful blue light effectively.
Our anti-blue light screen filter is designed to filter out the most detrimental blue light and UV light. It is an absolute essential for anyone who cares about eye protection. Blue light is an invisible light which might harmful retina and result in macular degeneration, especially high risk of who spending long time in front of computer. It is proven to be effective in reducing 46% of blue light and 99% UV light which significantly reduce your risk exposure to eye diseases in long run.
Features
Reduce average 46% blue light, protect your eyes effectively.
Anti-UV, effective filtering harmful rays to protect your eyes.
One piece patented design, easy to install.
Special thermal convection desing, high temperature environment reliability qualified.
Comparison
Product

Anti-Blue light Screen Filter

Material

Acrylic (PMMA)

Model NO.

PLBU-B

PLBU-C

PLBU-S

Color

Grey

Transparent

Light orange

Transmittance

83%

92%

91.5%

Blue light cut

(380nm~450nm)

43%

40%

46%

UV cut

(300nm~400nm)

99%

99%

99%

Hardness

3H

3H

3H

Feature

Enhance contrast, low reflection

Image clear, no chromatism

comfortable and reduce eye fatigue
Dimension
size

19"

21"

22"

24"

26"

27"

32"

39"

40"

42"

46"

47"

48"

50"

55"

60"

65"

width

(mm)

432

490

540

625

730

910

960

1055

1080

1120

1230

1365

1465

Height

(mm)

285

305

325

370

435

530

560

605

625

655

715

820

850

Depth

(mm)

40

45

45

45

45

45

45

45

45

45

55

55

55

Thickness

(mm)

2

2

2

2

2

2.5

2.5

2.5

2.5

3

3

3

3
Applications
Computer screen and LCD/LED TV screen. Thickness can be adjusted (1.5mm/2mm/3mm)
Data Sheet

Item
Unit
Test Method
Spec. Value
Thickness
μm
Detected by micrometer
19"~37": 2mm
40"~47": 2.5mm
Over 50": 3mm
Transmittance (550nm)
%
JIS K7105
91.5%
UV Cut (300~400nm)
%
Transmittance(%)
99%
Blue Light Cut (380~450nm)
%
Transmittance(%)
46%
Hardness
-
JIS K-5400 /500g
3H
Color
-
Light orange
Distortion Temperature
ASTM-D648-04 B
99.5°C
Impact Strength
ASTM-D256-04
1.15 kgf‧cm/cm
Flexural Strength
ASTM-D793-03
1236 kgf/cm2

Data Sheets Download

---

PLBU-S Anti-Blue Light Screen Filter (Light orange) Specifications

---

---

Related Products

Model NO.: PLBU-C

---

Special anti- blue light coating, it is able to reduce 40% of harmful blue light effectively.

---

Model NO.: PLBU-B

---

Special anti- blue light coating, it is able to reduce 43% of harmful blue light effectively.

---

---